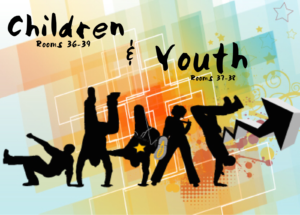 Look for the Sign (when the church services return to normal)
Children and Youth Ministries have a directional sign. Maybe you have seen them? These ministries meet upstairs in the educational building. Look for the sign to point you in the direction to go for children and youth.
We are looking for your input!
Content is needed for Spring Woods Instagram and Facebook. What is your group up to…fellowship, discipleship or works? Send photos along with a short explanation to Claudia Wallace at cwallace@springwoodsumc.org.
IF YOU RECEIVE A TEXT FROM THIS NUMBER (281) 767-8282
it's from Spring Woods. We have subscribed for a service that will allow us to send text messages out to church members and attenders. Save this number to your contacts so that when you receive a text from the church you recognize the number.
Spring Woods UMC Drive-In Service featured in Cross Connection:
Opportunities to Join The Spring Woods Team
(when church services return to normal)
1) Become a communion server once a month. Contact Helena Phelps at helena.phelps@att.net.
2) Become an Usher at the 11:15 am worship service. Contact Barbara Frank at BAF717@sbcglobal.net.
3) Become a member of the Coffee Service Team. Make the coffee for Sunday mornings for a month. Three people are needed. Contact Brenda Richardson at brichardson7219@yahoo.com