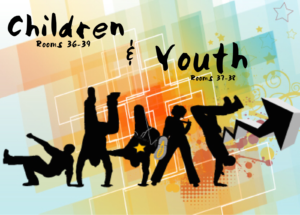 Look for the Sign
Children and Youth Ministries have a directional sign. Maybe you have seen them? These ministries meet upstairs in the educational building. Look for the sign to point you in the direction to go for children and youth.
Join The Office Team
Thank you to our new Office Volunteers! The office could use a couple more substitutes to fill in as needed. If you are interested, contact Marge Harrison at mharrison@springwoodsumc.org
We are looking for your input!
Content is needed for Spring Woods Instagram and Facebook. What is your group up to…fellowship, discipleship or works? Send photos along with a short explanation to Claudia Wallace at cwallace@springwoodsumc.org.
Prayer Warriors
We have added a new time slot for prayer for the church and VCI on Sunday mornings after the contemporary service. We meet at the kneelers in the great hall closest to the main doors. Look for Wanda Polk or Shirley Ledet. We continue to meet after the traditional service in room 20. These prayer times will be in effect for the next 12 months. Join us!
IF YOU RECEIVE A TEXT FROM THIS NUMBER (281) 767-8282
it's from Spring Woods. We have subscribed for a service that will allow us to send text messages out to church members and attenders. Save this number to your contacts so that when you receive a text from the church you recognize the number.
Spring Woods Christian Academy Little Caesars Fund Raiser
Our Little Caesars Fund Raiser has started! Order forms are now available. You can place your order at the School office as well as in the Church office. Thank you so much for your support! Deadline for orders is September 25, 2019.
Micah's Closet Food Pantry
Please help us feed those in need of assistance in our community with your
donations of non-perishable items such as instant pancake mix and syrup and large cans of soup. Drop your donations in the blue barrels located in the narthex and the great hall foyer. We appreciate your generosity greatly!!!
Spring Woods Christian Academy Box Tops
Collecting Box Tops for the school has become easier. Look for the flyer in the narthex or the great hall foyer to get the APP to collect box tops for SWCA. Follow the instructions on the flyer. No more clipping and storing to turn in to the school. List and qr code to download app may be found here
Trailer Grace Ministry to Expand Service One Additional Day
Beginning on Sunday, September 15, the Trailer Grace Ministry will go out into the 1960 area from 11:20 am until 1:00 pm to assist the homeless in our area and provide prayer for them. Please consider being a part of this ministry. Volunteers are needed. Contact Crystal Fonseca at chrisgfonseca@gmail.com
Thank you so much for your support of the Gourmet Club fund raiser for Spring Woods UMC. Our most recent fund raiser at Victor's Restaurant and Deli brought in a donation of $270.52, which brings the grand total to $1, 921.54 donated from 5 events. We had a total of 82 people who took part in the fund raiser at Victor's Wow!. It couldn't happen without your participation. Thank you! See you at the next event October 21, 2019, at La Corona Mexican Restaurant in the Vintage Shopping Center.