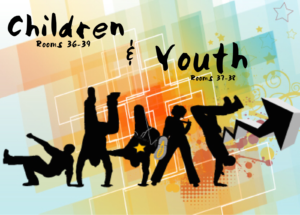 Look for the Sign
Children and Youth Ministries have a directional sign. Maybe you have seen them? These ministries meet upstairs in the educational building. Look for the sign to point you in the direction to go for children and youth.
We are looking for your input!
Content is needed for Spring Woods Instagram and Facebook. What is your group up to…fellowship, discipleship or works? Send photos along with a short explanation to Claudia Wallace at cwallace@springwoodsumc.org.
IF YOU RECEIVE A TEXT FROM THIS NUMBER (281) 767-8282
it's from Spring Woods. We have subscribed for a service that will allow us to send text messages out to church members and attenders. Save this number to your contacts so that when you receive a text from the church you recognize the number.
Opportunities to Join The Spring Woods Team
1) Become a communion server once a month. Contact Helena Phelps at helena.phelps@att.net.
2) Become an Usher at the 11:15 am worship service. Contact Barbara Frank at BAF717@sbcglobal.net.
3) Become a member of the Coffee Service Team. Make the coffee for Sunday mornings for a month. Three people are needed. Contact Brenda Richardson at brichardson7219@yahoo.com.

Micah's Closet Food Pantry
The pantry is in need of boxes of macaroni and cheese, chocolate pudding cups and canned chili. Drop your donations off in the narthex, great hall foyer or outside the church office in the bins labeled for Micah's Closet. If you would like to make a monetary donation, just indicate on your check or envelope that the money given is for Micah's Closet. We cannot continue to feed the hungry in our community without your help. Your donations are greatly appreciated! Also, don't forget you can donate Girl Scout Cookies to the pantry. They are a great surprise for the ones who receive them.

Lenten Study Grow Groups
The Lenten study grow groups begin after February 26, Ash Wednesday and run for 7 weeks. We have availability in some of the day and night groups. You can still sign up online, but do so quickly. We will try to order additional books prior to the start day. Contact Pastor Susan at susangrittman@gmail.com or 713-253-3527.

Free Financial Literacy Workshop
Spring Woods will host a Financial Literacy Workshop, Saturday, April 4, 2020, from 12:00 pm to 5:00 pm. Workshop Overview: Increase Cash Flow & Debt Management. Complimentary Lunch and Snacks. Workbooks will be $8.00. Pre-registration is required by March 8. Register at www.springwoodsumc.org/happenings