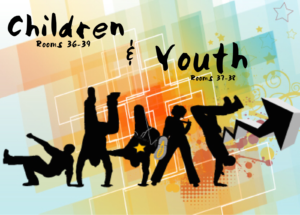 Look for the Sign
Children and Youth Ministries have a directional sign. Maybe you have seen them? These ministries meet upstairs in the educational building. Look for the sign to point you in the direction to go for children and youth.
Join The Office Team
Thank you to our new Office Volunteers! The office could use a couple more substitutes to fill in as needed. If you are interested, contact Marge Harrison at mharrison@springwoodsumc.org
We are looking for your input!
Content is needed for Spring Woods Instagram and Facebook. What is your group up to…fellowship, discipleship or works? Send photos along with a short explanation to Claudia Wallace at cwallace@springwoodsumc.org.
Prayer Warriors
We have added a new time slot for prayer for the church and VCI on Sunday mornings after the contemporary service. We meet at the kneelers in the great hall closest to the main doors. Look for Wanda Polk or Shirley Ledet. We continue to meet after the traditional service in room 20. These prayer times will be in effect for the next 12 months. Join us!
IF YOU RECEIVE A TEXT FROM THIS NUMBER (281) 767-8282
it's from Spring Woods. We have subscribed for a service that will allow us to send text messages out to church members and attenders. Save this number to your contacts so that when you receive a text from the church you recognize the number.
It's time once again to let our staff know how much we appreciate all they do for Spring Woods. Donations will be taken for the next four Sundays through Dec. 22. If you would like to make a donation, please write on your check and/or envelope that your giving is for the Staff Love Offering. Thank you for your generosity
!
Micah's Closet Food Pantry
Your generosity has been amazing. Please continue! The cold weather has brought many people to our doors in need of food and warm blankets. The food pantry is running short on spaghetti and plastic jars or cans of marinara sauce, grape jelly and 2 lb bags of rice. If you have an unused blanket you can spare, that would be appreciated too. God be with you all!
Join The Spring Woods Team
Ushers are needed for the 11:15 am worship service. Contact Barbara Frank at BAF717@sbcglobal.net.
RSVP for the Gourmet Club Make It, Bake It, Buy It Event
December 7, 7:00 pm, at the home of Teri & Phil Odom. The event is scheduled to be a fund raiser for the church, and all are sure to enjoy fun and fellowship while participating. Participants will make, bake or buy items to donate for auction as well as bid on items they would like to purchase. Items go to the highest bidder. Coffee and tea will be provided. Bring appetizers to share. A great time should be had by all. Please RSVP by 12/4/2019 to Teri Odom todom54@comcast.net.
If you ordered a T-Shirt and have not picked it up or if you would like to have a T-shirt but missed out on ordering one, they are available in the church office Mon. thru Thurs. 9 am to 4 pm.